OVER TO YOU … Stanley Tan Sui Ping handing over the Simex Off-road (Centipede) tyres worth RM,2000 to Kevin.

KOTA KINABALU: The 15th annual International Borneo Safari 4x4 Expedition received several more generous sponsors as of yesterday, which will be used as prizes for all the winners who compete for honours during the eight-day event from Oct 23-30.

Since the event has received an overwhelming response from both local Malaysian and foreign 4x4 enthusiasts, including the print and electronic media, Kinabalu Four Wheel Drive Club (KFWDC) is expecting more other prizes, making the challenge more rewarding to competitors.

KFWDC President James Wong, while thanking all those who have honoured their pledges, and waiting for several more to do so within these remaining weeks, expects more than 140 vehicles to be part of the convoy this year, an ever increasing number since the 2003 and 2004 Borneo Safari events, from 129 to 130 respectively.

Like in previous such events, a five-member Radio and Television Malaysia (RTM) TV crew from Kuala Lumpur have confirmed their participation, thanks to the national carrier, Malaysia Airlines (MAS), who has indicated their willingness to sponsor the crew's return airfares.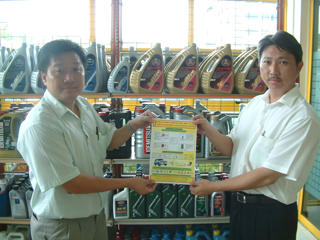 POWER BOOSTER … Tokai Parts & Services and Tokai Diagnosis & Auto Service Centre's manager Chong Lin Yu handing over the voucher worth RM5,500 to Kevin for the installation of a power boost up kit for Toyota Hilux SR Turbo.

On top of that, with the strong support from the Sabah Tourism Board and Tourism Malaysia, the Borneo Safari has lured more and more foreign participation and journalists, who have confirmed joining and covering the adventure, where several visitors have also registered to be in the tag-on group.

The Deputy Chief Minister and Tourism and Environmental Development Minister Tan Sri Chong Kah Kiat, being a strong supporter, has also enhanced KFWDC's efforts in making the annual affair Sabah's premier adventure and motorsport tourism event, that has widely been aired over a few networks around the globe and published in motorsport magazines.

Yesterday, three more companies namely, Continental Sime Tyre Marketing Sdn Bhd (formerly Simex Marketing), Realux Sdn Bhd and Tokai Parts & Services Sdn Bhd honoured their pledges by handing over their sponsored items to the event's Sponsorship Manager Kevin Yeung.

– FRED LEONG